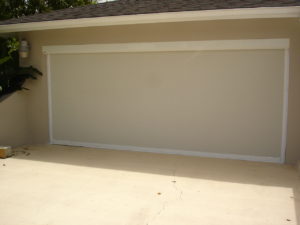 Probably the best things about life in Florida are those picture-postcard days, the balmy afternoons when you just want to throw open the garage and let the sun shine in. But, like all postcards, there's always a less-pretty side: Bugs and critters, untidy garages, association rules and too-curious neighbors can cause even the most outgoing folk to head inside and pull the door tight.
Don't let icky insects, fussy restrictions or nosy passers-by keep you hot under the collar.
Now, you can stay open and keep your cool with Skeet'r Beat'r motorized roll-down screens. Opaque when viewed in the sunlight from outside, Skeet'r Beat'r's durable screens restrict access and reduce visibility from the exterior while providing natural light and an open-air feel inside.
Skeet'r Beat'r is great for your wallet, too: The solar protection and cross-ventilation control temperature and allow heat from hot cars to escape into the outside, saving money on energy costs.
Skeet'r Beat'r mounts inside, outside, under the header, or behind the arches of your garage or entry door. There's no track on the ground, so dirt can't accumulate.
Best of all, you'll never be bugged by bugs, critters, and debris.
"It's a great way to enjoy your garage again," said James Hermann, owner of Screen Concepts in DeLand.
Screen Concepts also offers other top-quality products, such as beautiful Eclipse exterior sunshades, which use hightech fabrics to filter sunlight, reduce glare and protect furniture throughout the home.
Hermann provides quick delivery, installation, and ongoing maintenance and service of all Screen Concepts products, which include Skeet'r Beat'r screens, vinyl roll-ups, Eclipse sunshades, and more.
A longtime craftsman, and handyman, Hermann even throws in little touches — like conveniently placed switches — for free.
If you're really interested in savnig energy and money, ask Hermann about the unique Power-Save box.
Innovative and effective, Power-Save reduces the amount of power drawn from the utility by storing excess energy from inductive motors in its capacitors and providing it back when demand is higher.
If you're looking for cool ways to go green, save green, enjoy the green of the outdoors in comfort, and make your neighbors green with envy, check out Skeet'r Beat'r and other products from James Hermann and Screen Concepts, DeLand.
— Advertisement from The News Journal