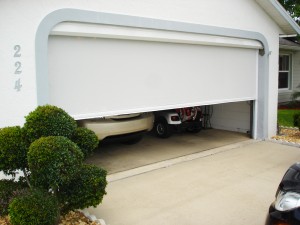 Are you looking for a way to convert your garage or covered patio into usable comfortable space? Are you tired of your furniture fading and the heat or glare from the afternoon sun? Is there an extra large, tall, or corner opening that you need a solution for? Screen Concepts, your source for retractable awnings and motorized screens and vinyls, provides our customers with uniquely styled design solutions!
The SKEET'R BEAT'R® is designed for flexibility to fit a wide array of custom applications including: garages, entryways, lanais, porches and other openings up to 25 feet wide. Are mosquitoes and insects invading your space? These retractable screens keep those pesky bugs out while allowing fresh air to circulate. Our screen material reflects 80% of the sun's harmful UV rays protecting fabrics from fading. It is super strong screen, pet resistant, and will provide many years of use with minimal care. A simple washing cleans away dust and dirt returning the fabric to its original luster.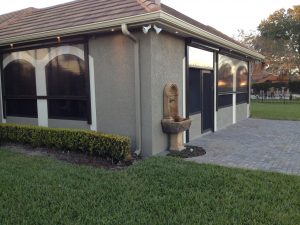 We also offer a line of retained marine quality vinyl panels designed to keep out wind and rain or excessive heat and cold. Areas enclosed by WEATHERSHIELD vinyls can be heated or air-conditioned to provide comfort in any season, while still permitting a near perfect view to the outside. Typical applications include lanais and porches to extend seasonal use in cooler weather, or to allow the space to be used during driving rainstorms. They may also be used in restaurants where roofed open-air dining areas can be uncomfortable due to inclement weather. This line also offers customization; screen mesh panels can be integrated with the vinyl, allowing for air circulation while still maintaining protection from the elements!
With a SKEET'R BEAT'R® or WEATHERSHIELD (both manufactured in the USA only by Screen America Corporation) there are no tracks to trip over on the floor. Each is protected in an aluminum color coordinated canister when not in use. When deployed, it is held in place by vinyl tracks at each side and a weighted bar attached at the bottom sealing the gap. Operation is by remote control and fixed push buttons utilizing a standard household outlet for power.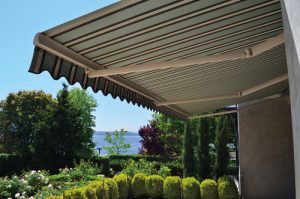 Rainier Shade retractable awnings offer instant shade with the touch of a button! Our motorized retractable awnings feature motors and controls made by Somfy, allowing you to retract and extend your awning using a wall switch, remote control, or an app on your smartphone or tablet. Every Rainier retractable awning is engineered, designed, and assembled with pride in the USA. is built to order and custom tailored to fit your unique needs.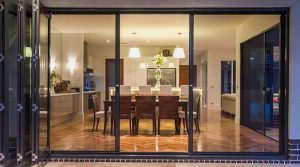 VistaView™ are large opening retractable screens, designed for even the biggest of doors and windows. This retractable screen door can cover 29'6" feet easily making it the best screen for sliders, pocket, and bi-fold doors.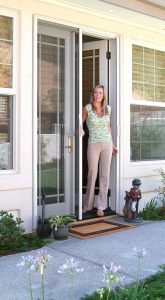 ClearView Retractable Screens® are for single, French, and regular sliding glass windows up to 8′ in height. They are there when you need them and stow away out of sight when you don't.