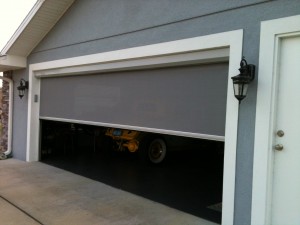 Skeet'r Beat'r Motorized Screens are designed primarily to be installed on existing homes or light commercial and professional offices where openings can be either totally open or totally screened with the push of a button.
The screens are housed in powder coated aluminum housings.  The screen tracks are attached to the vertical sides of the opening with the screen housing mounted overhead.  The weighted crossbar is sealed to the floor with a flexible seal when the screen is rolled all the way down.  When the screen is rolled all the way up only the crossbar and seal are exposed, protecting the screen mesh from the damaging elements.
The screen mesh comes in an assortment of colors: charcoal, gray, beige, brown, white and stucco (a mix of white and beige) and offer insect control, sun protection and privacy.  Housing and tracks colors are brown, beige and white.  All screens are motorized and operate by remote control, push button or momentary switch.
For more details on how Skeet'r Beat'r Motorized Roll-Up Screens can fit into you lifestyle, contact us.