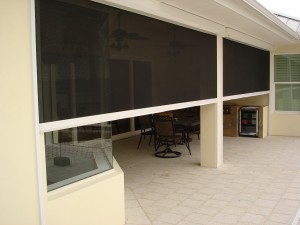 What makes the SKEET'R BEAT'R ® system different from the rest, are the things you don't see! You don't see a track on the floor, bent and full of dirt. The screen is held tight by a color coordinated weight bar that extends into the track on each side. Our system is the only motorized roll-up screen system that has vinyl side tracks that allow the screen to "break away" in the event it accidentally comes in contact with a motor vehicle.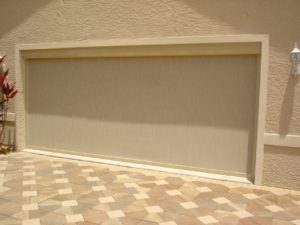 When deployed, the weight bar stops just short of the floor surface and a brush or rubber V-seal bridges the remaining gap, keeping bugs and other creepy crawlers out! You don't see the screen when not deployed because it is rolled up into an aluminum color coordinated housing allowing the user to fully enjoy the unobstructed opening. You don't have to get out of your car to open or close the screen; it is motorized and operated by remote control! The screen is a heavy duty fabric made of strong vinyl coated polyester and is resistant to pet damage. It is mildew and fade resistant and only needs occasional cleaning with a mild soap and water.
The TW-80 screen fabric blocks 80 percent of the sun's UV rays. (The best part is you can see out when others can't see in!) The motor has a 5 year warranty and the controls have a one year warranty. Each system is custom made to fit your opening specifications.The mesh and housing come in an assortment of color choices to compliment any decor! Call Screen Concepts to install your SKEET'R BEAT'R® to provide privacy and comfort for your home!